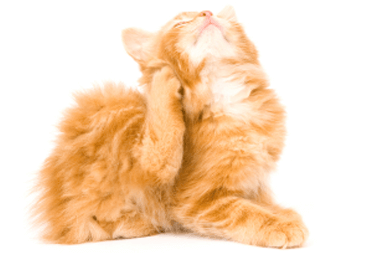 The skin is considered the largest organ on your pet's body. When your pet's skin is not healthy, he or she can experience a greatly reduced quality of life. Northern Valley Animal Clinic is equipped to diagnose and treat a wide variety of dermatology conditions to keep your pet comfortable and living life fully.
Just like people, pets will occasionally have to scratch an itch but it is not normal for a dog or cat to continually itch. If you notice your pet is scratching, chewing at a part of his or her body, licking, digging at the ears, or even pulling out hair, your pet may be dealing with a larger health issue.
Parasites:

Fleas —Thankfully, fleas are not very common in the Rochester area, but we do see cases of them every year and they can be terrible to try to eliminate. Fleas can cause dermatitis in pets and severe itching. Northern Valley Animal Clinic carries products that will protect your pet from both fleas and ticks in one application.
Ticks —Ticks are a huge issue in Minnesota and, as most natives to the Rochester area know, they not only cause a pet to itch, they also carry a number of different diseases. Speak with our veterinarians about the best tick prevention products for your pet and whether use of the Lyme vaccination would be prudent given your pet's risk factors.

Pet skin infections —Bacterial or fungal infections of the skin can cause open wounds, bumps, blisters, hair loss, and skin scales causing pets to itch. Diagnosing the type of infection may involve a test called a skin scraping, which our veterinarians can perform in our in-house veterinary lab while you wait.
Allergies in pets —Many of the skin cases we see stem from allergic reactions to substances in a dog or cat's environment. Just like humans, pets can become allergic to a variety of substances, such as:

Pollen
Fabric fibers
Mites
Foods
Plants
Cleaning agents
Mold
Feathers
For pets that have mild or occasional symptoms, as-needed treatments can be used. For pets who suffer more severe or continual reactions, Northern Valley Animal Clinic is able to perform complete serology testing, which involves sending a blood sample to our advanced lab to determine the allergens and develop a medical treatment specific to your pet's condition.
Contact Northern Valley Animal Clinic for a consultation if you have additional questions about your pet's skin condition.