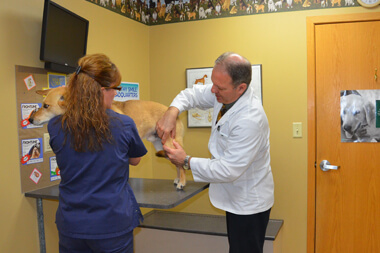 The anterior cruciate ligament (ACL) is one of two ligaments that give support to a dog's knee joint. A torn ACL can only be repaired through surgery. Northern Valley Animal Clinic is fortunate to have Dr. Brad Treder as our orthopedic surgeon who has extensive experience and excellent results performing the most advanced ACL repair surgery currently available.
Which pets suffer from a torn ACL?
Tearing of the cruciate ligament is a fairly common injury among middle-aged, medium to large sized dogs. Overweight dogs are more likely to tear the ligament than those who maintain an appropriate weight.
What are the symptoms of an injured cruciate ligament?
The ligament can suffer a partial tear leading to lameness or soreness in the dog and it will often completely rupture and the dog will not bear weight on the leg at all.
What kinds of treatments can be done to repair a torn ACL?
Only surgery can repair a torn cruciate ligament but there are different types of surgeries. Dr. Treder performs what is called the TTA, or tibial tuberosity advancement surgery, which we have found to provide excellent recovery with a quicker return to normal functioning and fewer degenerative joint disease problems than other ACL surgery options.
Is there anything I can do to protect my dog from problems with his or her cruciate ligament?
Weight control is the number one preventive measure in cruciate ligament injuries. Added weight puts added stress on the knees and increases the likelihood of tears. The veterinarians of Northern Valley Animal Clinic will routinely assess your pet's weight and help you to provide a balanced diet for his or her activity level.
Anytime your dog shows signs of soreness or limps on his or her hind legs, the veterinarians of Northern Valley Animal Clinic should be contacted to assess the condition of the cruciate ligament.